Posts for tag: oral hygiene
By San Marcos Dental Arts
February 16, 2017
Healthy Smiles, Healthy Families
Good oral health is important at every age. Healthy teeth and gums signify more than an attractive smile—it often reflects good general health, confidence and a personal sense of well-being. Proper oral
hygiene starting at home can help protect your family's teeth from cavities and prevent gum disease.
The following tips can help your family reach optimal oral health to promote a lifetime of healthy smiles:
1. Practice Good Oral Hygiene
The health of your smile is a reflection of how well you take care of your teeth and gums. It should go without saying that you and your family should brush your teeth at least twice a day, and floss daily to remove plaque build up from the large surfaces of the teeth and under the gums. Most of us learn these habits as children, and that's why it's important for parents to play an active role in helping kids learn the proper techniques for brushing and flossing.
2. Snacking & Tooth Decay
Frequent snacking can be your mouth's biggest enemy. That's because when sugars or starches in your mouth come in contact with plaque, the acids produced can attack teeth for several minutes after you finish eating. Repeated attacks can break down the enamel on the surface of teeth, fueling tooth decay. To prevent cavities, consume sugary foods and drinks with meals rather than in between. If you must snack throughout the day, then brush immediately after to cleanse the mouth of food.
Along with limiting how frequently you eat, you should also pay attention to the types of foods and drinks your family is consuming. Limit your intake of sugary, starchy foods, and replace them with healthy choices, such as raw vegetables, fresh fruits and whole grains.
3. Fluoride
Teeth are attacked by plaque daily. The acids produced by plaque weaken the enamel, which eventually leads to decay. That's why it is important to make sure you are getting enough fluoride. Fluoride is absorbed into the enamel, helping to repair and prevent cavities. Some children may benefit from fluoride supplements. Ask
San Marcos Dental Arts
about the best fluoride treatment plan for your family at your next visit.
4. Check ups
Regular visits to your San Marcos, CA family dentist are a very important part of maintaining good dental health. The American Dental Association recommends scheduling dental appointments twice a year. A professional dentist can detect problems in their earliest stages, and will make sure your kids' teeth are developing properly as they grow. San Marcos Dental Arts can clean the areas of your teeth that regular brushing can't, helping you avoid unnecessary cavities and dental treatment.
If you neglect the care of your teeth at home and fail to go to the dentist regularly, accumulated plaque could potentially lead to the development of tooth decay, gum disease and even tooth loss. The good news is that being diligent about your dental health care at home and by seeing your dentist on a regular basis, you and your family will be more likely to keep your teeth and gums healthy for a lifetime.
By San Marcos Dental Arts
April 17, 2014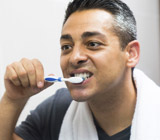 One of the great benefits that patients with implants enjoy is their imperviousness to decay: unlike a natural tooth, bacteria have no effect on the materials in an implant's construction. That doesn't mean, however, you can become lax in your hygiene habits — although the implants may not be susceptible to disease, the surrounding gum tissue and bone are. If those tissues become infected you could start to lose the implant attachment and, as it progresses, the implant itself.
In fact, the gum tissue that surrounds the implant may be more susceptible to infection than those around natural teeth. Teeth maintain a connection with the jawbone through the periodontal ligament. Besides securing the tooth, the gum tissue has fibrous attachments to the tooth to help the gum tissue endure a lot of wear and tear and resist the invasion of bacteria and food particles. Implants are anchored directly into the jawbone (where bone eventually grows and attaches to the titanium implant surface) and don't develop an attachment with the ligament. Implants, therefore, don't have the benefit of resistance to bacteria and food particles that natural teeth receive through these fibrous attachments.
As a result, patients with implants need to establish a conscientious habit of effective oral hygiene. Daily removal of bacterial plaque from teeth surfaces through brushing and flossing (and semi-annual office cleanings and checkups) greatly reduce the risk of infection and subsequent inflammation. It's also important to monitor the condition of your gums, especially around implants. If you begin to notice bleeding, red or swollen gums, or other signs of possible gum disease, you should contact us as soon as possible for an assessment.
Proper care for implants and their supporting tissues is just as necessary, and perhaps more so, than it is for natural teeth. By providing that care, you'll help ensure years of effective service from your implants.
If you would like more information on hygiene practices with implants, please contact us or schedule an appointment for a consultation. You can also learn more about this topic by reading the Dear Doctor magazine article "Infections Around Implants."
By San Marcos Dental Arts
March 18, 2014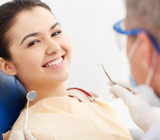 You may have heard the expression: "If you just ignore your teeth, they will go away." That may be true — but by practicing good oral hygiene, more and more people are now able to keep their natural teeth in good condition for their entire life. So we prefer to put a more positive spin on that old saw: "Take care of your teeth and they will take care of you — always." What's the best way to do that? Here are our top five tips:
Brush and floss every day. You knew this was going to be number one, right? Simply put, tooth decay and gum disease are your teeth's number one enemies. Effective brushing and flossing can help control both of these diseases. Using a soft-bristle brush with non-fluoride toothpaste and getting the floss into the spaces between teeth (and a little under the gum line) are the keys to successful at-home tooth cleaning and plaque removal.
Don't smoke, or use any form of tobacco. Statistically speaking, smokers are about twice as likely to lose their teeth as non-smokers. And "smokeless" tobacco causes tooth discoloration, gum irritation, an increased risk for cavities, and a higher incidence of oral cancers. Of course, smoking also shortens your life expectancy — so do yourself a favor, and quit (or better yet, don't start).
Eat smart for better oral (and general) health. This means avoiding sugary between-meal snacks, staying away from sodas (and so-called "energy" or "sports" drinks), and limiting sweet, sticky candies and other smile-spoiling treats. It also means enjoying a balanced diet that's rich in foods like whole grains, fruits and vegetables. This type of diet incorporates what's best for your whole body — including your teeth.
Wear a mouthguard when playing sports. An active lifestyle has many well-recognized health benefits. But if you enjoy playing basketball, bicycling, skiing or surfing — or any other sport where the possibility of a blow to the face exists — then you should consider a custom-fitted mouthguard an essential part of your gear. Research shows that athletes wearing mouthguards are 60 times less likely to suffer tooth damage in an accident than those who aren't protected — so why take chances with your teeth?
See your dentist regularly. When it comes to keeping your smile sparkling and your mouth healthy, we're your plaque-fighting partners. We'll check you for early signs of gum disease or tooth decay — plus many other potential issues — and treat any problems we find before they become serious. We'll also help you develop healthy habits that will give you the best chance of keeping your teeth in good shape for your whole life.
If you would like to learn more about keeping your teeth healthy for life, please contact us or schedule an appointment for a consultation. For more information, see the Dear Doctor magazine articles "Tooth Decay — The World's Oldest & Most Widespread Disease" and "Dentistry & Oral Health For Children."